Offering a wide range of products, we are committed to sustainable farming. We believe that by caring for our earth we create a better world today and a brighter future for tomorrow.
Organic eggs
Berrybrook eggs are certified organic by Oregon Tilth. Our Hy-line Brown hens spend their summers on pasture and winter in an insulated building so production remains more-or-less steady throughout the year. The chickens' diet consists of organic feed we raise ourselves. We proudly supply our local grocery stores Freeman Shopping Center and Jamboree Foods as well as these Sioux Falls businesses:
Grass-fed beef
Berrybrook Farm's Grass-Fed Angus beef is home-raised, non-GMO, naturally raised, hormone-free, grass-fed and grass-finished. We take great care in treating our animals with respect, as if they were part of the family. From start to finish, our animals are raised with care and respect and fed grass & forage based feed. Whenever possible, you can find our animals out grazing on pasture. When the South Dakota weather prevents us from grazing, our animals can be found chomping on organic alfalfa, oat, and/or forage-based cover crop silage along with grass hay. Our animals never step foot in a commercial feedlot, and are South Dakota through and through. Read our producer affidavit for more info.
You can find our beef for sale at Pomegranate Market in Sioux Falls, where they carry our grass-fed beef in a variety of frozen forms: ground beef, roasts, soup bones, and marrow bones. We also have our meat for sale from the farm. All our meat is processed at USDA certified Hudson Meats in Hudson, SD, a wonderful small town butcher shop that operates under high standards and is great to work with. Want steaks, ribs, or a specific cut/special order? Contact us to put in a direct order for specific cuts or a 1/4, side, or full beef.
Know your beef. Know your farmer.
Berries
Will started "Ortman Berries" as a college freshman and now, nearly 20 years later, we're the only organic berry patch we know of in the region. We try to maintain two acres of strawberries for u-pick and custom picking. Depending what plant varieties are currently in the patch, our season goes from mid-June to early July. Some varieties bear throughout the summer. Once you've tasted an Ortman berry, you may never go back!
2018 Strawberry update:
Strawberry plants are ordered. This spring we will plant both June-bearing and day neutral varieties. The June berries won't be ready for harvest until 2019; the day neutrals will bear this year in late summer. It remains to be seen how we will market them. In recent years, the spotted wing drosophila (SWD), a increasingly common soft fruit pest, has made picking not very much fun and may prohibit us from allowing u-pick. SWD infestations tend to be worse in late season berries. Please email questions to sherilynortman@gmail.com, or message us on Facebook.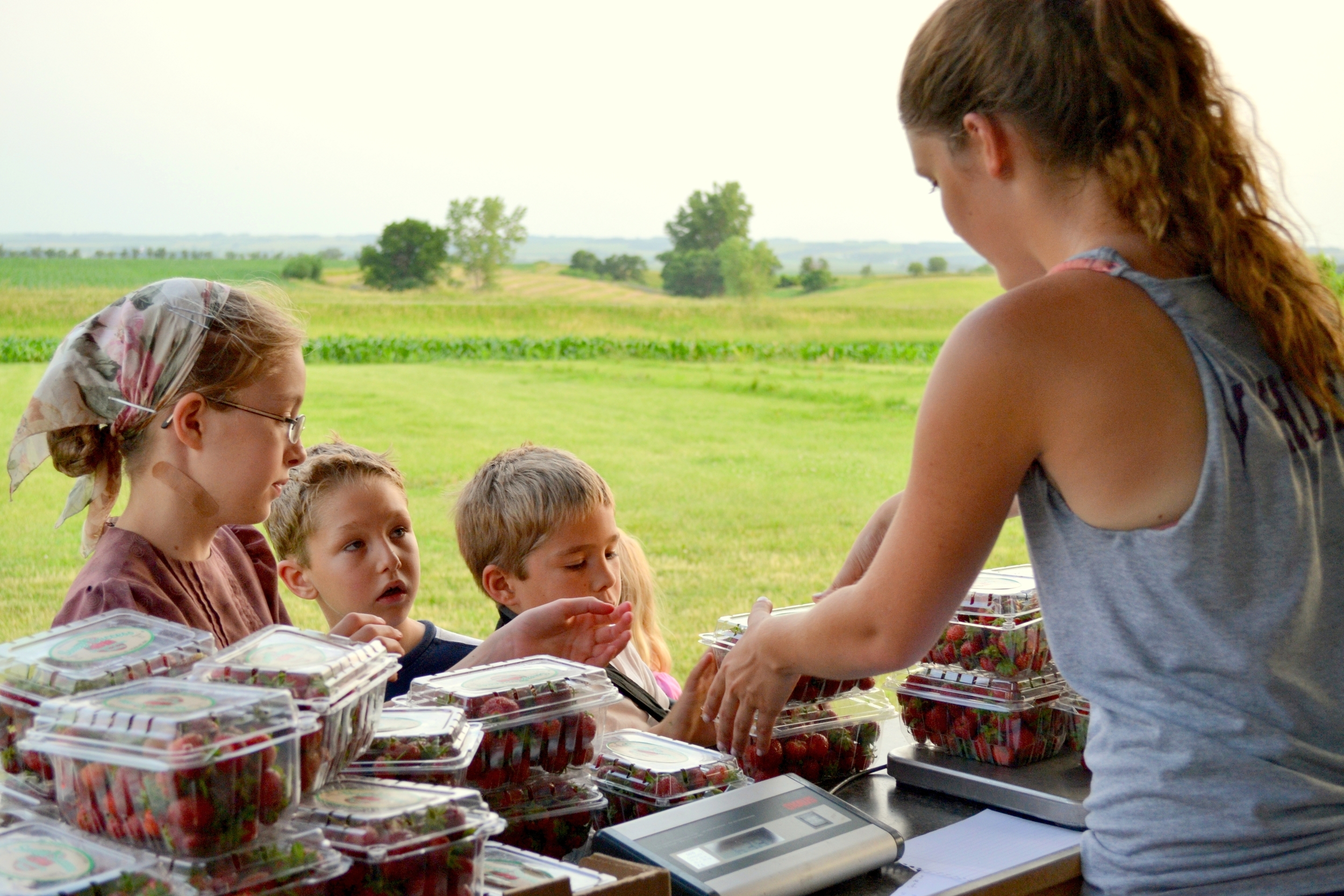 Organic crops
Outside of consumer food products, we raise certified organic corn, soybeans, oats, alfalfa and other forage & hay products.